Bunbury Show's Wearable Art Competition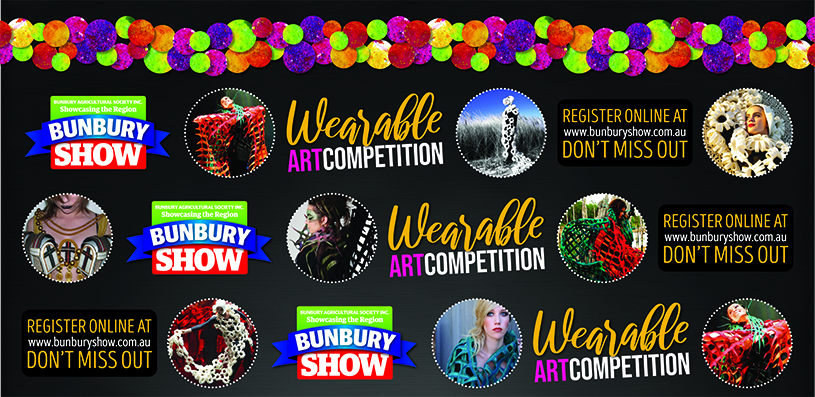 We invite you to submit your amazing, colourful and absolutely fabulous wearable art creations to our Show.
New to the Bunbury Show in 2019, fashion creative Nathan Gardiner will curate the Bunbury Show's Wearable Art Competition at the showground, under a wonderful marquee on 13 April.
In the lead up to the competition, the Bunbury Agricultural Society will host three creative and two runway workshops at the Stirling Arts Centre, under the expert creative tutelage of Dee Mosca, Kate Hannah, Sarah Ashburner and Nathan Gardiner.
There are CASH prizes in each category, for creation and model.
Meet our Judges
Mladen Milicich from Glytch Menswear, contestant on Project Runway Australia, and master pattern maker.
Bunbury girl Kate Hannah who has just returned from her own show at Los Angeles Fashion Week with her exciting lable, Pjunk'd.
Sarah Ashburner former head of fashion at South West TAFE and now heading her own label Japonica.
Categories     
There are four categories which have been crafted to encourage every age and stage in life to be involved.  The Open and Recycled Materials categories are open to all ages.  There is a nominal cost of $10 per person for each creation entered.
The categories are: Primary (any child  to Year 6 inclusive); Secondary (any student attending High School – Year 7 to 12 inclusive); Recycled Materials (any age showcasing majority of their garment to be made from recycled materials); Open (any age, any stage in life).
Workshops
The five workshops (dates and details below) which are open to everyone. You do not have to enter the competition to attend the workshops.  All workshops will run at the Stirling Street Arts Centre, from 9am to noon, and you must register online to attend.  There is a nominal charge of $10 per person, per workshop.
Workshop 1 Saturday 23 February 2019: Hats and Headpieces with Dee Mosca.
This workshop is suitable for primary aged students, and will involve making a variety of hats and headpieces as a basis for your wearable art.  All items will be made from easily sourced household items.
Workshop 2 Saturday 2 March 2019: The Pjunk'd Approach with Kate Hannah
This workshop is suitable for, but not limited to secondary students, who will spend a wonderful morning with Kate, who is newly returned from LA Fashion Week, exploring her approach to design and the step she goes through from concept to creation.
Workshop 3 Saturday 9 March 2019: Troubleshooting with Sarah Ashburner
Need some inspiration for your design or creation, here's an opportunity to have a 15-minute, one on one session with Sarah, former head of fashion at TAFE and now heading her own label, Japonica.  Ask her about construction and development of your wearable art entry.
Workshop 4 and 5 Thursday 28 March 2019 and/or Saturday 30 March 2019:  Wearable Walking with Nathan Gardiner 
Learn how to show off your wearable art to its best advantage in this exclusive runway and wearable art walking workshop.
ENTRIES ARE ONLINE – just click the red button below and nominate yourself for a creative adventure.  (Note: payment is secure via PayPal – we do not ask for your credit card details).
Creations in our gallery are by the Bunbury's talented Kerry Gelmi.